Sunday, September 19, 2010 8:41 AM
Labels: Baltimore , Carolina , Cincinnati , free picks , handicapping , Mobile Wagering , NFL , sports betting , Tampa Bay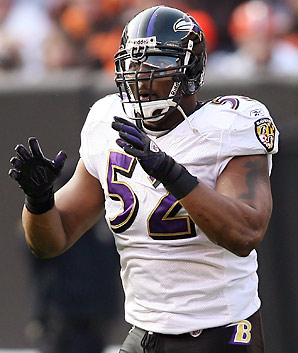 LB Ray Lewis can still get it done
Last night was a 2-1 day as Iowa really gave that game away with their special teams. Two morning games will try to get my NFL record off the ground. I can't seem to pick a winner in the NFL.
Baltimore @ Cincinnati
The Bengals are the most over ratted team in the NFL. The Ravens defense will hold the Bengals offense down and Flacco will get up and down the field their defense.
PICK
BALTIMORE -2.5
Tampa Bay @ Carolina
TB just plain stinks. Carolina can play a little. Carolina must be licking their chops to see Tampa coming in as they were destroyed by the Giants lat week.
PICK
CAROLINA -3